General description
VPNA is an immersive, reusable virtual learning platform to provide medical students with a comprehensive education on peripheral nerve disorders and associated treatment. The VPNA curriculum is module-based and uses a variety of media, including still and animated graphics, motion video, and text. The VPNA is designed to be entirely virtual and can be integrated into existing medical school curricula led by experienced practitioners.
Trainees are first introduced to the VPNA historical timeline, which denotes significant figures like Santiago Ramon y Cajal of Spain (Nobel Prize, 1906), for his work on neuroanatomy, and Hanno Millesi of Germany, for his introduction of interfascicular interposition nerve grafting (1974), and Rita Levi-Montalcini of Italy (Nobel Prize 1986), for her discovery of nerve growth factor. This introduction serves both to set the foundation for the basics of the peripheral nervous system as well as the concepts that drive modern treatments.
After completing the introduction, trainees first learn about the components and inner workings of nerves at a cellular level. They can view the processes underlying normal synaptic transmission as well as the pathophysiology of nerve disorders and injury [Figure 1]. Trainees then learn how to classify nerve injuries into the Seddon and Sunderland classifications related to the degree of disruption of the neural structure.
Figure 1. Modules on the cellular and molecular mechanisms of nerves take a focused look at normal neurotransmitter activity, as seen here, and pathophysiological processes. Module captured with permission from BioDigital.
Trainees then explore the nerves within the human body through a virtual rendering and can dissect layer by layer to locate individual nerves and branches [Figure 2]. Natural variations in nerve location are described. Users can observe normal motor function and sensory innervation through a physical exam with an avatar and are quizzed at the end of the modules.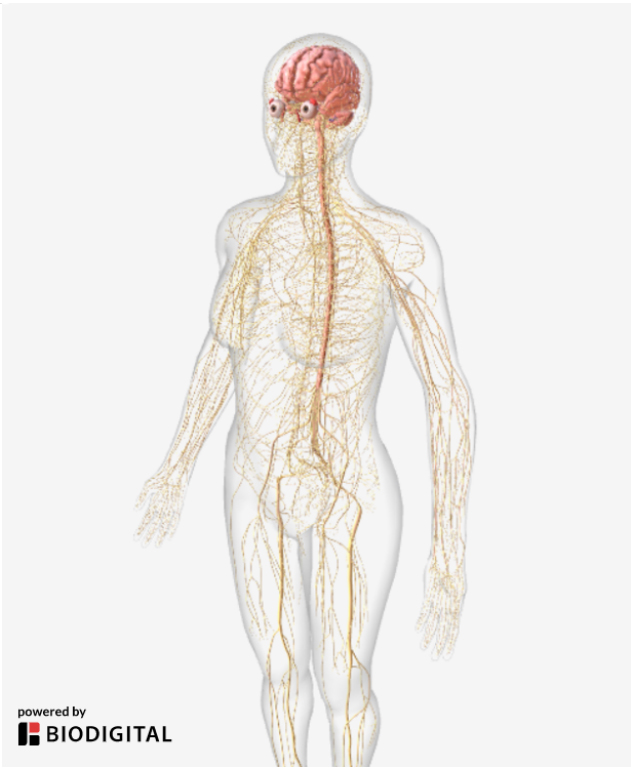 Figure 2. Trainees begin their explorations of nerve anatomy through the Male and Female Peripheral Nervous System overview modules. These modules allow for a dissection through muscle and connective tissues and the location of nerves throughout the human body. Individual nerves can be located, and their respective functions observed. Module captured with permission from BioDigital.
Target audience-appropriate experiences provide detailed, game-based learning on peripheral nerve disorders and appropriate treatment. Over 25 modules focus on individual nerve disorders such as brachial plexus compression/injury, facial pain and headache, facial palsy, joint denervation, and pelvic pain of neural origin. In addition, trainees can learn about peripheral neuropathy due to diabetes, leprosy, or chemotherapy. Trainees are briefed on a patient case and then interact with a patient avatar to learn the appropriate diagnostics - including physical exam maneuvers and electrodiagnostic testing - to diagnose and treat the patient [Figure 3]. Trainees gain competency in how to medically treat nerve injuries and learn when surgical intervention is necessary. Surgical intervention modules demonstrate the principles of nerve decompression, nerve repair, nerve reconstruction, and neuroma treatment.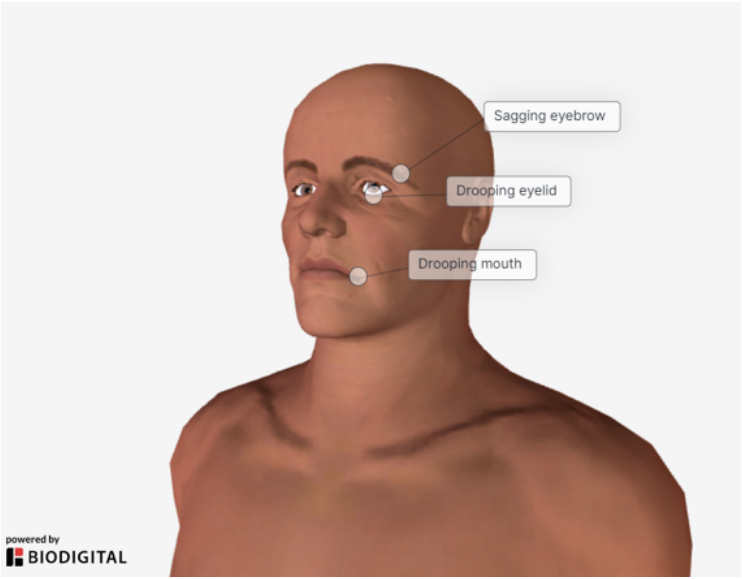 Figure 3. Individual nerve disorders, such as Bell's Palsy featured here, use game-based learning to train students on appropriate diagnostics and treatment. Trainees interact with avatars and learn to identify the signs and symptoms of over 25 peripheral nerve disorders. Module captured with permission from BioDigital.
We are developing a high-fidelity operating room (OR) experience capable of both a single and multi-player format to allow surgical residents and advanced trainees to learn how to perform the peripheral nerve surgeries described. Patient case and OR simulations will be done under the guidance of a virtual coach to provide real-time feedback. The simulations will be followed by a debriefing and constructive, personalized discussion of the simulation and the trainee's decisions.
The VPNA's data and analytics dashboards allow trainees to assess skill improvement and identify specific learning needs. The built-in learner management system facilitates easy integration into any existing curricula. The infrastructure of the VPNA supports reconfiguration and customization to address the training needs of different audiences - thus allowing the platform to be used to train healthcare professionals at any level as well as patients.
The VPNA is accessible by mobile device or computer using any Internet Web browser. It can be used with a VR headset and data gloves to allow for an immersive, hands-on experience, and real-time haptic feedback.
The first application of the academy
We are developing the first pilot course to assess the efficacy of the VPNA in enhancing medical student competency in the peripheral nervous system. Our pilot team consists of experts in the field, curriculum leaders and other stakeholders at the Johns Hopkins School of Medicine, and the BioDigital platform. Following the Office of Medical Student Curriculum's (OMSC) Process for Curricular Enhancement, the feasibility of curricular integration was first discussed with the OMSC and the Medical Student Senate (MSS). The VPNA team was approved to conduct a needs assessment to evaluate areas within the existing curriculum that did not address or could be enhanced by the content of the VPNA. First, the VPNA team assessed student and faculty impressions of the existing content to identify themes for improvement. Themes gathered from two groups of ten participants consisting of plastic surgeons and medical students in an informal setting included general nerve physiology, individual nerve function, nerve disorders, and appropriate diagnostics/treatment. Surgeons expressed a need for early diagnosis and referral from primary care and other specialties as they frequently saw patients with delayed care. This was similarly noticed by medical students during their clinical exposure. Medical students within their preclinical years also described a large focus on the central nervous system over the peripheral nervous system within their neuroscience curriculum. From these themes, 65 individual topics (i.e., ulnar nerve, carpal tunnel syndrome) were then listed. Individual topics underwent two rounds of pretesting with five participants consisting of plastic surgeons and medical students in an informal setting.
The VPNA team then conducted a lecture-by-lecture assessment of the medical student curriculum at Hopkins to characterize if and how these individual topics were covered. The team worked closely with curriculum leaders to ensure nothing was missed. Among the courses searched were Anatomy, Pre-clinical Neuroscience, and Neurology Clerkship. Of the 40 topics assessed, 29 (72%) were present within the curriculum. However, the topics were most often briefly described (i.e., one slide within a lecture) or were only included within a graphic or table. Upon completion of the needs assessment, the VPNA was approved for implementation as both a supplement to existing topics and an avenue for new topics. Based upon our needs assessment of the Johns Hopkins School of Medicine curriculum, we have deemed the VPNA would be appropriate and beneficial to be included as a component of the Pre-clerkship Curriculum and the neurology clerkship. We have partnered with the course directors of the Pre-clerkship Curriculum to utilize the small group sessions already built within the curriculum to test the VPNA against the standard educational content. During the neuroscience core, half of the small group sessions will have unlimited access to the VPNA, while the remaining half will complete the standard course material. At the end of the core, there will be an assessment of learner satisfaction with the course material and a quiz on content specific to the peripheral nervous system. Final course exam scores will also be compared. We hypothesize that the VPNA will greatly improve overall course exam scores as well as provide a more enjoyable learning experience.
Within the Neurology core, half of the rotating students will be granted, randomly, access to the VPNA. At the end of the core, all students will take the standard National Board of Medical Examiners (NBME) Neurology core exam. Scores will be compared between the VPNA and standard education students. We hypothesize that students who can study with the VPNA will achieve higher scores on their NBME exams. Although not intended to be studied during the pilot course, it is our hope that repeated exposure to the VPNA during the pre-clerkship curriculum and neurology clerkship will lead to better retention of knowledge on the peripheral nervous system.
Upon conclusion of these pilot studies, we aim to have the support to permanently implement the VPNA at the Johns Hopkins School of Medicine and to expand to other medical schools.