Further workup included a computed tomography (CT) maxillofacial with 0.5 mm slicing per surgical planning company (Medical Modeling Inc., Golden, Colorado) and customized medical device company (Stryker Corporation, Kalamazoo, MI) guidelines [Figure 6]. The patient underwent pre-operative computed tomography angiography of the lower extremities which revealed distal narrowing of the peroneal vessels, more so on the right than the left, so it was decided to harvest the graft from his left side. The patient underwent his operation without major complication [Figure 7]. However of the five planned DIs, only three were placed due to insufficient fibula bone width at the selected sites, an unforeseen planning error. The provisional prosthesis included 10 teeth [Figure 8]. Other than failure to place all planned DIs, he suffered no complications intra-operatively or post-operatively and was discharged seven days later on a puree diet.
He has been seen for continual follow up, through 2021 and is currently undergoing post-surgical modifications in preparation for his definitive prosthesis [Figure 9].
Discussion and review of the literature
The placement of DIs in a vascularized free tissue flap in preparation for a delayed dental prosthesis has been well described. Implant placement with immediate prosthesis delivery in a single operation has been seldom reported, and is a novel treatment paradigm. The index case above details the practical application of "Jaw in a Day." Since the first description by Levine et al.[1] in 2013, there have been 20 recorded cases, described in seven series from eight separate institutions 21 total cases inclusive of ours[1-8] [Tables 2 and 3]. Only cases with same-day placement of DIs and an implant-borne provisional prosthesis on a vascularized graft were included in this literature review, conducted via PubMed [Figure 10]; many institutions described immediate DI placement in the original reconstructive surgery followed by implant exposure and prosthesis loaded weeks to months later; these cases were excluded. Isolated cases with immediate prosthesis placement were also culled from larger series reporting on implant placement.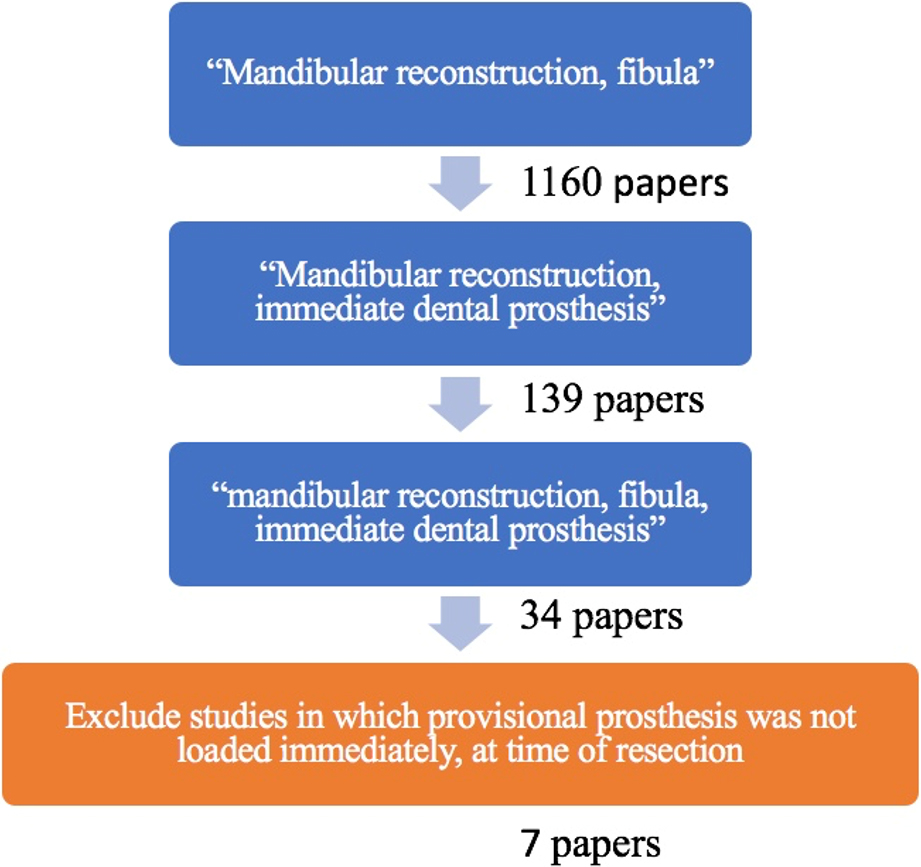 Figure 10. PubMed search terms used in the literature review to find cases of "Jaw in a Day" procedures.
| | | | | | | | |
| --- | --- | --- | --- | --- | --- | --- | --- |
| Ref. | Institution | Year | n | Gender | Age (mean) | Age (range) | Pathology |
| Levine et al.[1] | NYU Langone | 2013 | 4 | 2M, 2F | 25.75 | 20-34 | 4B |
| Meloni et al.[4] | University Hospital of Sasari Italy | 2015 | 6 | 3M, 3F | 55.5 | 36-70 | 3C, 3B |
| Qaisi et al.[2] | University of Mississippi | 2016 | 3 | 2M, 1F | 44.3 | 23-76 | 3B |
| Runyan et al.[7] | NYU Langone, MSK, Lenox Hill | 2016 | 1 | 1F | 26 | 26 | 1B |
| Lee et al.[3] | NYU Langone | 2018 | 2 | 2M | 22.5 | 19-26 | 2B |
| Grewal et al.* | Columbia NYP | 2019 | 1 | 1M | 51 | 51 | 1B |
| Patel et al.[6] | Providence Cancer Institute | 2019 | 2 | 2F | 19.5 | 19-20 | 2B |
| Sukato et al.[8] | SUNY Downstate | 2020 | 2 | 1M, 1F | ND | ND | 2B |
| Totals | | | 21 | 11M, 10F | 35.1 | 16-76 | 3C, 18B |
Ref.
n
Median # implants
Total # implants
Implants lost (n, %)
Median # teeth restored
Total # teeth restored
Dentition spatiality (teeth #s)
Post-op dietary protocol
LOS range (days)
F/U range (months)
Levine et al.[1]
4
5
21
0
9
35
L Md (18-30)
R Mx (2-10)
Md (19-29)
Md 4 teeth NOS
ND
8-29
10-22
Meloni et al.[4]
6
5
29
3
ND
ND
Md A x3; R Mn; Mx A; L Mn
ND
ND
48
Qaisi et al.[2]
3
4
13
0
6
19
R Md (25-29)
Md (21-28)
R Md (26-31)
Puree diet for 3 months
ND
4-17
Runyan et al.[7]
1
3
3
0
8
8
R Mx (2-9)
Tube feed for 5 days; soft diet
5
5
Lee et al.[3]
2
3
6
0
ND
ND
ND
Tube feeds × 2 weeks; liquids × 3 weeks; soft diet × 1 week
ND
18.9-38.3
Grewal et al.*
1
3
3
0
10
10
Md (20-29)
Puree**
7
24
Patel et al.[6]
2
3.5
7
0
6
12
L Md (19-27)
R Mx (1-4)
ND
ND
ND
Sukato et al.[8]
2
6
12
0
12
24
Md (19-30) x2
Soft diet for 24 h
ND
ND
Totals
21
4
94
3 (3.2%)
8.5
108
5-29
5-48
Of these 21 patients, 11 (52.4%) were male and 10 (47.6%) were female. Patients ranged in age from 16-76 years old (averaged 35.1 years). Three cases (14.3%) performed were for oncologic resection with squamous cell carcinoma identified as the most common pathology. Eighteen cases (85.7%) were performed in cases of patients with benign pathology including ameloblastoma, AV malformation, eosinophilic granuloma, gunshot wound, mucormycosis, odontogenic myxoma, osteoblastoma, and osteomyelitis. Only Qaisi et al.[2]'s 2016 case series commented on comorbidities; one of their three patients had well-controlled diabetes mellitus II and hypertension.
There were no reported cases of flap failures or other surgical complications requiring re-operation. Inclusive of all cases reported, a total of 41 implants were placed overall with a median of four implants per patient. Of these, 3 (3.2%) were lost secondary to failed osseointegration. Centers did not report on planned versus placed implants, so the frequency of this planning error cannot be ascertained. Of the series which reported the number of teeth restored, a median of 8.5 teeth were restored per patient. Most of the case series did not directly report on the spatial placement of restored dentition; however, laterality and which exact teeth were restored were able to be determined from photographs of the provisional prostheses included in the papers. This operation has been recorded on both sides and the arch of both the maxilla and mandible.
In terms of dietary consistency and transition, Qaisi et al.[2] enforced a strict puree diet for 3 months; Runyan et al.[7]'s patient received tube feeds for five days post-operatively, then was transitioned to a soft diet; Lee et al.[3]'s dietary protocol included two weeks of tube feeds, three weeks of liquids, and one week of a soft diet before resumption of normal diet; and Sukato et al.[8] maintained a 24 h soft diet protocol. The average postoperative stay was 14 days (5-29 days). Follow-up ranged from 5-48 months. On last follow-up, all patients demonstrated adequate occlusion, satisfactory aesthetics, and were able to tolerate a normal diet.
Costs associated with DIs, and prosthesis design and production, as well as funding sources were not detailed in any of the series. Those that did mention cost, did so only to mention it represented a significant impediment to wider spread implementation. Certainly, it is a limitation of the current healthcare system to consider replacement of lost teeth as a cosmetic procedure following extensive surgery for benign and malignant disease. To a patient, restoring the oral cavity to their original form, and function, in addition to allowing them to smile may be the most important factor for success following this surgical reconstruction.
The review of the literature demonstrates the apparent success and growing implementation of such procedures that can restore a patient's oral and aesthetic jaw function in a single day. It is undoubtedly an important and impactful treatment option to offer to select patients who meet criteria. Further, although research is still limited, there do not appear to be immediate detrimental consequences to either flap success or an increase in intra-operative complications. The summation of JIAD literature report only three implant failures, for a 96.8% success rate. This compares favorably to Okay et al.[5], which observed an 89.3% dental implant success rate in their 13 patients who underwent delayed DI placement with immediate prosthesis placement (50 of 56 implants) and an 81.7% success rate of 15 patients who underwent delayed DI placement and delayed prosthesis placement (49 of 60 implants).
However, such conclusions are dampened by the nature of the retrospective reviews. This review is limited by inconsistencies in the reporting of demographic data, comorbidities, complications, and outcomes. Notably, none of the current papers make an effort to describe the expense associated with such a complicated procedure; in fact, only two mentioned the burden of cost at all.
Further research is required on patient satisfaction, and the short-term or long-term success of not only the free flap, but the success of immediately placed DIs when compared to a delayed protocol, and immediate versus delayed delivery of a dental prosthesis. Nonetheless, "Jaw in a Day" procedures are an interdisciplinary feat of technological planning and surgical teamwork that, when done right, can greatly benefit patients. It is this team's hope that by describing the case study, and literature, and standardizing a protocol - it will help to make this revolutionary advancement more easily achievable for other institutions and more accessible for patients in the future.