INTRODUCTION
As we learn more about lymphedema and have more techniques to treat it, assessment of the lymphedema patient becomes more and more important. With a proper assessment, we can choose the most appropriate treatment for these patients.
History
Detailed history taking is important. First, one wants to know how lymphedema started, was there an instigating factor, or did it arise de-novo? Is this an isolated case in the patient's family, or do other family members also have lymphedema? In other words, is this congenital or acquired. If there was an instigating factor, what was it, and how long ago did this occur? Has the patient had a lymph node dissection and/or radiation? A travel history is important since we know that the leading cause of lymphedema worldwide is filariasis[1]. Even though I live and practice in the United States, I have several patients in my practice whose lymphedema was caused by filaria. Whether the patient has spent time in an area where filariasis is endemic is, therefore, something one needs to know. The duration of the condition is also important. We know that the best results from lymphedema treatment are obtained early in the course of the disease. Duration will also give an idea of how advanced the condition is likely to be, which may impact treatment. Cellulitis is a common accompaniment of lymphedema, and each episode of cellulitis leads to further damage to the lymphatic system[2]. For this reason, a history of infection and its frequency is important. How does the patient manage the swelling? Do they wear compression and, if so, is it effective? Finally, we want to know what treatment the patient has had and, more importantly, how they responded to that treatment.
Physical examination
On completion of the history, the patient should be examined. There are several things that we look for specifically in the patient with lymphedema:
1. How big is the limb and, if it is unilateral, how does it compare with the contralateral side?
2. Are there trophic skin changes? [Figure 1]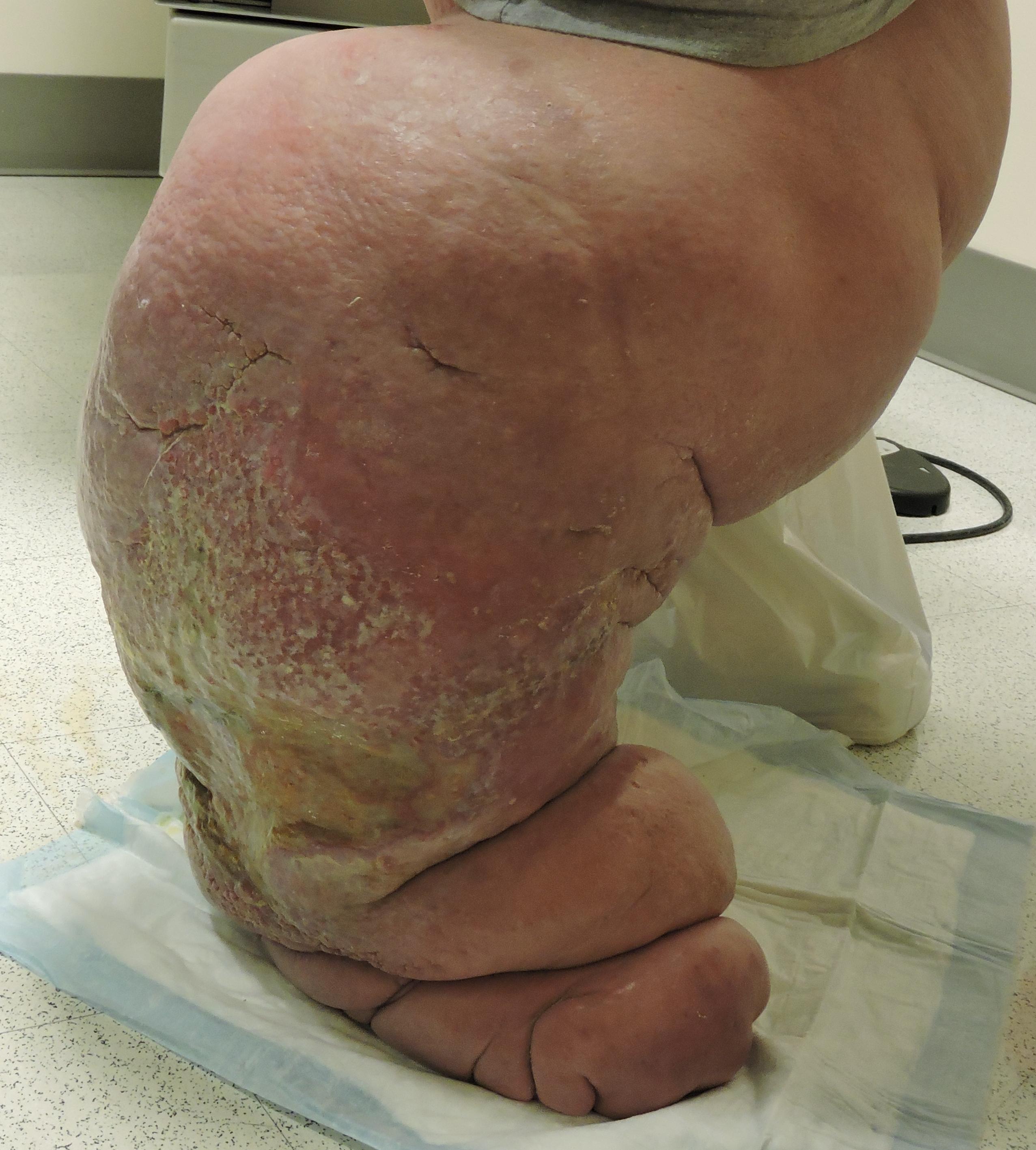 Figure 1. This patient with extreme late-stage lymphedema shows trophic skin changes. There are folds of edematous skin and thick rigorous skin, giving rise to fissures and increasing the risk of infection.
3. Is there any sign of infection?
4. Is there pitting edema? [Figure 2]
PATIENT ASSESSMENT
While all these modalities are assessed, no one alone is pathognomonic of lymphedema. However, taken together, the information they give helps develop the diagnosis.
DISCUSSION
Once all of this information has been gathered, the provider should understand:
(1) the etiology of the condition;
(2) the extent, or the International Society of Lymphology (ISL) stage;
(3) the condition of the lymphatics;
(4) patient's previous response to treatment which may predict future response.
In this way, a treatment plan can be formulated, and as already mentioned, the modalities listed above may be used to assess the patient's progress on an ongoing basis. Finally, to show the practical application of these assessments, my algorithm for managing the lymphedema patient is presented [Figure 6] in this algorithm, which is used for either primary or secondary lymphedema, all patients who can receive an MR Lymphangiogram. If for some reason, they cannot have an MR, then fluorescent lymphangiography is performed with ICG. If no lymphatic channels are seen, patients are divided into those who have had a previous lymph node dissection and those who have not. The latter group represents primary cases. In either case, the only treatment offered is excisional, the commonest of which is liposuction. The exception is if they have areas of dermal backflow. In that case, a vascularized lymph node transplant (VLNT) to the area of dermal backflow is considered.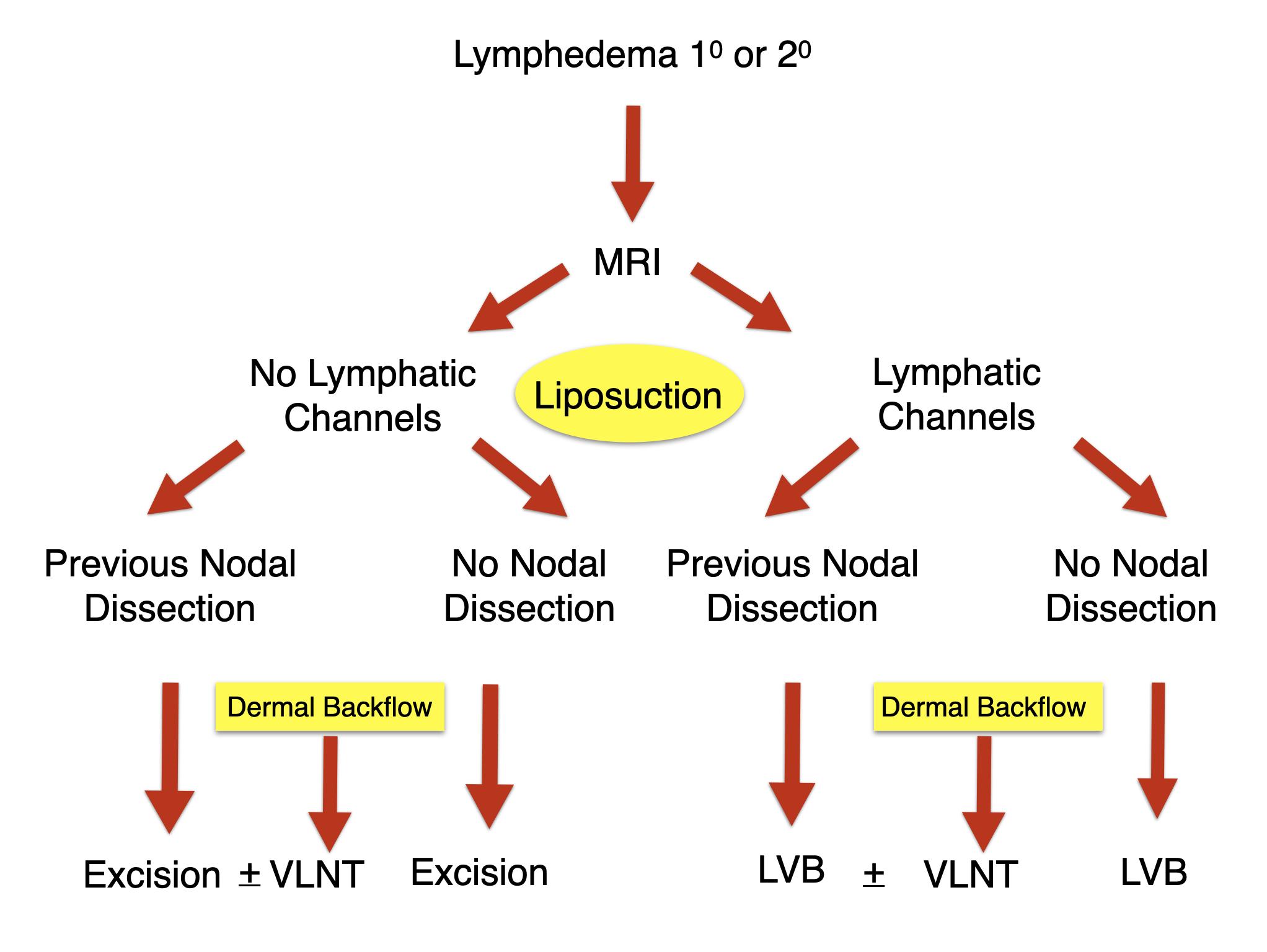 Figure 6. Algorithm for treatment of lymphedema, either primary or secondary. LVB: Lymphatico-venous bypass; VLNT: vascularized lymph node transplant.
On the other hand, if lymphatic channels are seen, the patients are divided into those who have or have not had a lymph node dissection. Again, in either case, a lymphatico-venous bypass (LVB) is offered. Areas of dermal backflow may again be eligible for VLNT. Six to twelve months after either LVB or VLNT, patients are offered liposuction as these operations help improve lymphatic flow, but they do not address the accumulated fibro-adipose accumulation, which we see with lymphedema.
Conclusion
Several treatment options exist for patients with lymphedema. Choosing the correct treatment is vital. Patient assessment is of paramount importance in achieving this. There is no one test or finding that is pathognomic for lymphedema, and we need to use multiple modalities to conduct a proper assessment. These assessments are not just useful in the initial evaluation of these patients. They are also extremely useful in following our patients and assessing the results of our treatment.
DECLARATIONS
Authors' contributions
The author contributed solely to the article.
Availability of data and materials
The material is based on the authors' practice. The bibliography provides all the information on issues described and is available through PubMed.
Financial support and sponsorship
None.
Conflicts of interest
The author declared that there are no conflicts of interest.
Ethical approval and consent to participate
Not applicable.
Consent for publication
Not applicable.
Copyright
© The Author(s) 2021.