1Department of Otolaryngology-Head and Neck Surgery, The Ohio State University Wexner Medical Center, Columbus, OH 43210, USA.
2The Ohio State University College of Medicine, Columbus, OH 43210, USA.
3Department of Dentistry-Maxillofacial Prosthodontics, The Ohio State University Wexner Medical Center, Columbus, OH 43210, USA.
Correspondence Address: Dr. Nolan B. Seim, Department of Otolaryngology-Head and Neck Surgery, James Cancer Hospital and Solove Research Institute, 460 West 10th Ave, Columbus, OH 43210, USA. E-mail: Nolan.Seim@osumc.edu
Abstract
Medical modeling and 3-dimensional (3D) virtual surgical planning represent a rapidly expanding, technological advancement especially useful in complex mandibular or maxillary defects in head and neck reconstruction. With utilization of 3D surgical planning, the reconstructive surgeon can initiate dental rehabilitation during the primary surgery with osseointegrated implants (OI), streamlining a typically lengthy process to full oral rehabilitation. Careful patient selection is important to optimize outcomes with immediate OI, and factors to consider during the evaluation process include pathology, prognosis, anticipated defect, dental status, donor site availability, and patient motivation and resources. Synthesizing this information and developing a reconstructive plan with a multidisciplinary team approach is critical to expedite dental rehabilitation for select patients. A review of relevant literature and our surgical planning algorithm for selecting candidates for immediate OI is provided, along with our experience using this decision algorithm in a uniquely complex clinical case.
Keywords
Dental reconstruction, 3-dimensional modeling, microvascular free tissue transfer, medical modeling, osseointegrated implant, virtual surgical planning
Introduction
Mandibular and maxillary resections involve complex ablative procedures and are among the most challenging reconstructive cases in head and neck surgery. In these cases, the surgeon must contemplate both the oncologic and functional outcome along with quality of life and aesthetic considerations. In the past, the primary goals of free flap reconstruction were to ensure flap survival, replace tissue volume loss, create a safe wound, and provide structural support. With modern advances in microvascular free tissue transfer, flap survival now exceeds 95%[1]. Increased success and efficiency of modern microvascular reconstructive surgery allows for the surgeon to think beyond filling a defect and expand the scope of the reconstruction with sophisticated approaches to maximize outcomes for both form and function; particularly incorporating expedited dental rehabilitation.
The use of a two-team free flap approach has become commonplace at many high-volume head and neck centers. This, along with the accessibility of a multidisciplinary team and 3-dimensional (3D) modeling, allows for a technologically advanced, collaborative approach for improved patient care. The incorporation of 3D modeling for head and neck surgery allows for improved accuracy for ablative approaches and, particularly, as a reconstruction template for the microvascular team. These 3D techniques are gaining momentum with success in both mandibular and maxillary reconstruction[2,3]. Along with these factors, the use of pre-surgical planning and modeling allows for the opportunity of immediate osseointegrated implants (OI) during the primary surgery. This can then streamline dental rehabilitation in select patient populations. First popularized by Levine et al.[4], same day dental reconstruction is now attainable at select centers for a fraction of patients. The use of upfront OI offers several advantages, most notably a possibility for decrease time to complete dental reconstruction by at least 6 months. Alternatively, when delaying OI, the course to complete dental rehabilitation can be lengthy, taking on average 44 months[5].
In this article, we focus on the details surrounding a decision for immediate OI as well as the clinical algorithm used for patient selection. Extensive multidisciplinary thought and planning on the front end of treatment must be used in assessing the expected defect and pathology, the patient's baseline dentition and goals, availability of donor sites, and expected surgical outcome along with potential need for adjuvant therapy. Synthesizing these factors and combining clinical and radiographic findings with medical modeling allows for a comprehensive surgical plan and can expand the use of 3D planning and immediate OI now and in the future.
Reconstructive considerations
Clincal case
There are many instances when 3D planning optimizes the outcomes in complex head and neck surgery. However, its use for a packaged resection and reconstructive approach for even the most challenging of cases may improve the oncologic, functional, and economic outcomes for well selected patients. For this reason, even in challenging reconstructive cases, patient that fit one's multi-disciplinary algorithm for immediate OI should be considered [Figure 1]. We present a unique and representative case in this regard.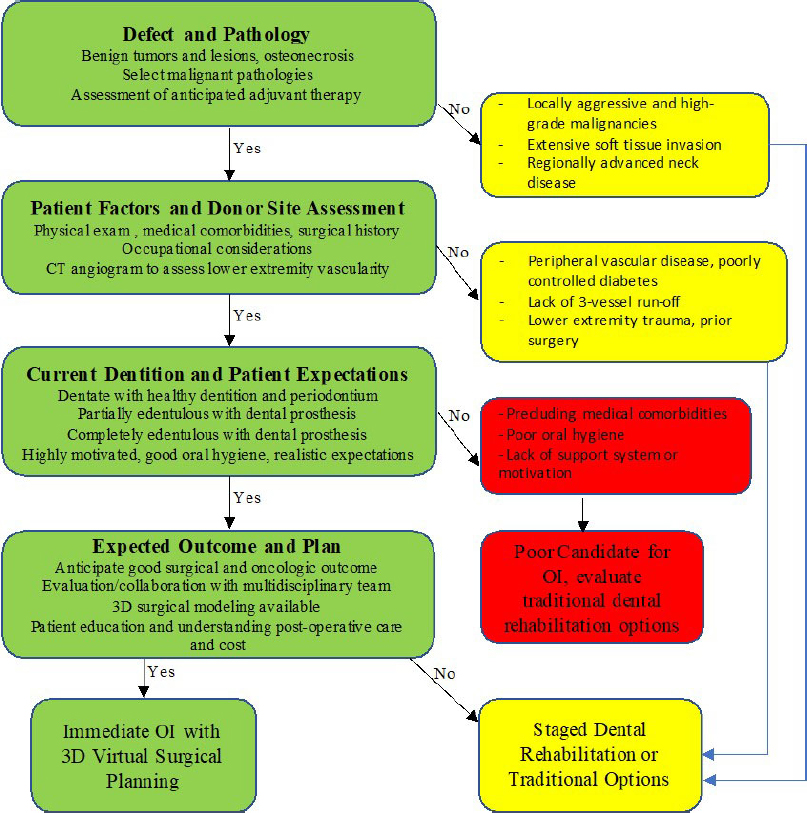 Figure 1. Reconstructive algorithm. Reconstructive algorithm used in evaluating feasibility of immediate osseointegrated implants for dental rehabilitation in planned maxillectomy and mandibulectomy.
Atypical case for immediate osseointegrated implantation
A 69-year-old female, with a past medical history significant for chronic kidney disease, hypertension, osteoporosis, well controlled type-2 diabetes, and hepatitis C, presented with stage III bisphosphonate-related osteonecrosis of the jaw (BRONJ). Of note, she had a 5-year history of alendronic acid use to treat her osteoporosis as well as a distant history of mandibular dental post implantation to secure her lower denture. Prior to presentation to otolaryngology, she experienced local infection with abscess formation requiring combined intraoral and extraoral incision and drainage. At that time, CT scan revealed necrosis of the mandible consistent with BRONJ based on her medical history. She then underwent anterior mandibulectomy and plate-only reconstruction with oral and maxillofacial surgery and was referred to Otolaryngology-Head and Neck Surgery clinic for evaluation six months after this initial surgical resection. Clinically, the patient examination revealed completely edentulous status wearing a complete maxillary denture fixed with denture adhesive. The patient's prior segmental mandible resection created a defect from the right mandibular body to the left mandibular body with now scarred and retracted oral vestibular mucosa healed intact and without fistula.
The options for dental rehabilitation were reviewed with our maxillofacial prosthodontic team, and due to the nature of her defect and goals of reconstruction, OI was recommended. We discussed delayed versus immediate OI with the patient who opted for 3D medical modeling and immediate implantation. A CT angiogram of the lower extremities was performed which revealed three vessel runoff bilaterally. CT neck with contrast was performed to assess for free flap donor vessels. A fine cut CT facial was obtained [Figure 2] and patient-specific MM (KLS Martin Group, Jacksonville, FL) was utilized by the head and neck reconstructive surgeon and maxillofacial prosthodontist accounting for patient-specific anatomy and contour of the fibula. MM was then used to virtually plan the surgical resection and reconstruction, in which cutting guides for the mandible and fibula were generated [Figure 3].
Figure 2. Preoperative imaging. CT facial, axial images display extent of prior anterior mandibulectomy (A, B) and protrusion of plate-only reconstruction (C, D).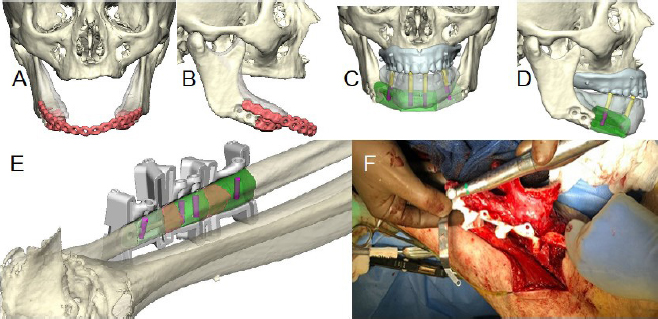 Figure 3. 3D medical modeling. Patient specific medical modeling for planned mandibular reconstruction. Coronal (A) and right lateral (B) view of previous segmental mandibulectomy with plate-only reconstruction. 3D modeling of planned left fibula free flap reconstruction, including implants and healing caps in coronal (C) and right lateral (D) views. KLS 3D printed cutting guides modeled to patient's left fibula (E) and placed on fibula for OI hole drilling (F).
The patient underwent surgery with planned left fibula free flap. KLS 3D printed cutting guides were placed on the fibula and OI holes were drilled while the fibula remained perfused in the leg. Pre-planned osteotomies were then made, and the 3D custom pre-bent 2.5 mm mandibular reconstruction plate was then secured to the fibula. Implants and healing abutments were then placed into the drill holes [Figure 4]. The free flap was then harvested and attached to the mandibular defect and flap vessels anastomosed to the right facial artery and right external jugular vein. Postoperatively the patient did well and was discharged from the hospital on postoperative day five with a full oral diet. No tracheostomy was indicated as there was no intra-oral mucosal defect.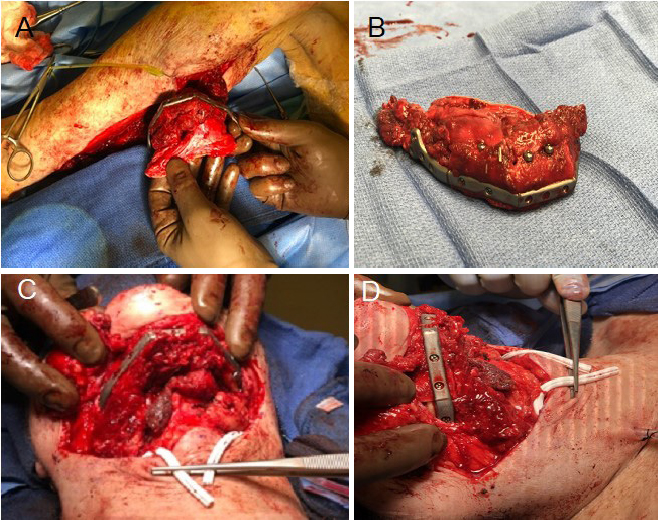 Figure 4. Free flap customization. Inset of fibula free flap after pre-planned osteotomies, osseointegrated implants inset, and plate attachment. (A) Fibula fastened to pre-bent 2.5 mm mandibular reconstruction plate. (B) Implants and healing caps placed into drill holes of free flap. Mandibular reconstruction plate, fibula, and implants placed to repair defect from inferior (C) and right lateral views (D).
Discussion
Due to the difficult situation in which this patient presented, missing the anterior segment of the mandible, non-anatomic plate in place, completely edentulous status, and desire to return to full oral diet, all reconstructive options were considered with particular attention placed on long-term dental rehabilitation. The use of 3D modeling and pre-surgical planning in a multi-disciplinary format allowed our team to re-design the mandibular shape and size and plan the position of OIs. The favorable factors in her case include a relatively small defect of known size and lack of malignant etiology. With a benign pathology, the chance of needing to extend bony cuts is removed and the risks associated with postoperative radiation are eliminated. The patient's CT angiography and lower leg anatomy were favorable for a fibula free flap reconstruction, thus allowing the possibility for immediate OI. After the dental reconstruction plan was considered, and the patient was interested in the upfront approach, bundling the OI into the primary surgery offered the opportunity to decrease the overall time to full oral rehabilitation and bundle the implant cost into the primary surgery. As such, using an algorithm [Figure 1] and synthesizing patient-specific information in a multidisciplinary approach can lead to a well-defined surgical plan and successful outcomes with immediate OI.
Conclusion
Osseus free flap reconstruction of the mandible and maxilla requires proper planning, patient preparation, and collaboration to achieve desirable functional and aesthetic outcomes. The emergence of MM and 3D surgical planning makes immediate OI for expeditated full dental rehabilitation not only possible, but an ideal option for the appropriately selected patient. When considering immediate implantation, we recommend utilization of a thorough, personalized, pre-surgical plan in a multidisciplinary approach with the goals of reconstruction well aligned with the patient's goals and expectations.
Declarations
Authors' contributions
Made substantial contributions to conception and design of the study, performed data analysis and interpretation, drafting the work or revising it critically for important intellectual content, final approval of the version to be published, and agreement to be accountable for all aspects of the work in ensuring that questions related to the accuracy or integrity of any part of the work are appropriately investigated and resolved: Lancione PJ, Satropolus T, Seim NB
Made substantial contributions to conception and design of the study, drafting the work or revising it critically for important intellectual content, final approval of the version to be published, and agreement to be accountable for all aspects of the work in ensuring that questions related to the accuracy or integrity of any part of the work are appropriately investigated and resolved: Valentin S, Van Putten M, VanKoevering KK, Kang SY, Old MO
Availability of data and materials
Not applicable.
Financial support and sponsorship
None.
Conflicts of interest
All authors declared that there are no conflicts of interest.
Ethical approval and consent to participate
Not applicable.
Consent for publication
Not applicable.
Copyright
© The Author(s) 2021.
Cite This Article
Lancione PJ, Satroplus T, Valentin S, Van Putten M, VanKoevering KK, Kang SY, Old MO, Seim NB. Expanding use of osseointegrated implantation using 3-dimensional surgical planning: a paradigm shift in dental reconstruction. Plast Aesthet Res 2021;8:13. http://dx.doi.org/10.20517/2347-9264.2021.02
Article Access Statistics
Full-Text Views Each Month
PDF Downloads Each Month