History
As with any preoperative patient evaluation, the assessment must begin with a thorough medical history. In the case of an adult patient with new onset ptosis presenting for eyelid surgery, special attention must be paid to risk factors other than aging, including thyroid disease, diabetes, bleeding diatheses, periorbital surgery or trauma, other ocular conditions, and an orbital or brain tumor, which must be excluded by MRI or CT scan. These patients should be cleared for ptosis surgery by a neuro-ophthalmologist [Figure 9]. Adult patients who have acute acquired unilateral ptosis without a history of trauma, recent cataract or vision surgery when a speculum was used, or long-standing history of unilateral contact use should also be ruled out for development of an intraorbital or intracranial tumor.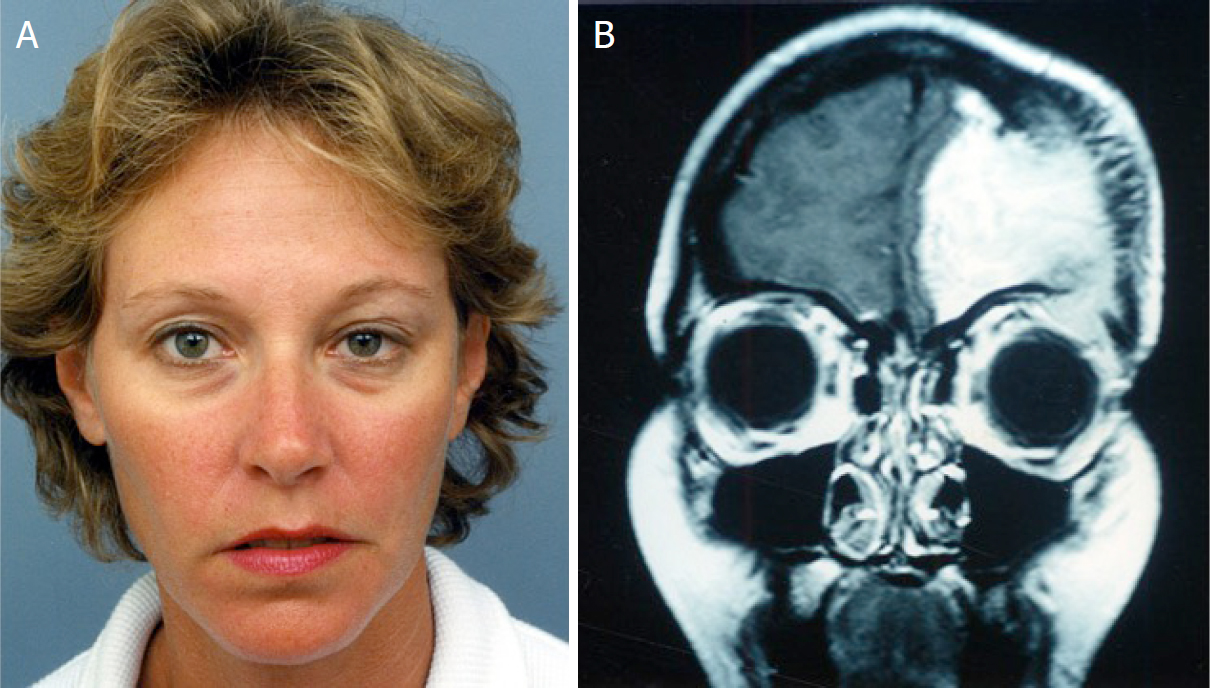 Figure 9. A: an otherwise healthy patient presents with newly acquired ptosis of the left eye with no significant history of a possible cause; B: MRI reveals a large left frontal meningioma eroding through the sphenoid wing causing ptosis and orbital dystopia
Patients with acquired ptosis often complain of a progressive decrease in the size of their eyes, a tired appearance, and even visual field loss [Figure 10]. Risk factors for this finding include advanced age, contact lens use, cataract surgery, or history of lid edema such as blepharochalasis and floppy upper lid syndrome [Figure 11][3]. Another medical disease that often presents as ptosis is myasthenia gravis. Specific questions should be asked, including if the patient has worsening of the ptosis at night and if there are other signs such as muscle weakness or difficulty breathing or swallowing. Physical examination will reveal eyelid fatigability when the patient is instructed to close his or her eyes tightly, fatiguing the orbicularis and inhibiting the levator, and to open them rapidly. A positive test is defined by immediate upward movement of the lid secondary to the levator muscle, followed by downward drift. An adult with new onset signs and symptoms, including the ones just mentioned, should have a neuro-ophthalmologic evaluation including a Tensilon test.
Figure 10. Example of a visual field test performed in the office with a Q-tip not a visual field machine, documenting the loss of 50% of the right superior visual field by confrontation test
Another important consideration is the presence of xerophthalmia, or dry eye syndrome. This syndrome is characterized by a disruption in the tear film either due to decreased production or increased evaporation. Symptoms such as burning, itching, foreign body sensation or other types of eye discomfort should be elucidated. Risk factors for dry eye syndrome include laser eye surgery, smoking, and certain medications. These risk factors should be mitigated prior to surgery and eye lubricating drops and ointments may also be used as adjuncts[3].
Importantly, ptosis can be a key presenting sign in patients with the onset of neurological conditions. Therefore, in an adult presenting with ptosis, the absence of levator dehiscence, and the presence of other red flag symptoms such as diplopia, abnormal pupillary reflexes and difficulty with speech or swallowing, neurological evaluation is critical to rule out other potentially life-threatening conditions[1].
Physical examination
Any ocular and periorbital examination should begin with an assessment of the globe, including visual acuity, extraocular movements, and pupillary response. Additionally, Bell's phenomenon should be documented to ensure that the patient's cornea will be protected postoperatively [Figure 12][5].
Next, the etiology of the patient's lid ptosis should be determined as an extrinsic factor, such as brow ptosis and pseudoptosis, or dermatochalasis, which can also give the appearance of a ptotic lid. In the case of brow ptosis, the brow rests below its normal position, which is at the level of the supraorbital rim in men or up to one centimeter above the rim in women. Attention must be paid to the presence of transverse forehead rhytids and a unilateral elevated brow which is compensating for unilateral ptosis, as these may be an indication of compensated brow or lid ptosis [Figure 13]. Dermatochalasis is characterized by an excess of upper lid skin and soft tissue, which can cause pseudoptosis of the upper lid[6]. In the presence of true involutional lid ptosis, in addition to a low lid margin, other examination findings might include an elevated lid crease and thinned upper eyelid, signifying attenuation of the levator aponeurosis[7].
There are many techniques for quantifying the degree of lid ptosis. First, the margin reflex distance 1 is the distance from the central corneal light reflex to the upper eyelid margin. Normally, this measurement is between 3-4 mm and is reduced in patients with upper lid ptosis. In the worst cases, the upper lid may partially obstruct the corneal light reflex. Next the measurement of the palpebral fissure, or the eyelid aperture measured from the lower to upper lid margin in the midpupillary axis, should normally be 8-10 mm. However, in patients with ptosis, it is reduced. Additionally, lid crease height measures the distance from the lash line to the lid crease. Due to the dehiscence of the levator from the tarsus in patients with involutional ptosis, the lid crease height is often elevated in these patients. Finally, levator function is measured as the amount of lid excursion from extreme upgaze to extreme downgaze [Figure 14]. In patients with concomitant brow ptosis, this finding must be quantified while stabilizing the brow on the supraorbital rim. Normal excursion should be greater than 10 mm. Patients with involutional ptosis characteristically have preserved levator function. Importantly, asymmetries in the degree of ptosis should be noted, as correction of only the more ptotic eye will result in worsening contralateral ptosis postoperatively due to equal bilateral innervation of the levator by cranial nerve III - a phenomenon known as Herring's Law [Figure 15]. It is generally recommended to patch the ptotic eye for 5 min and the contralateral lid will usually descend, and therefore, bilateral ptosis repair is recommended[3].
In addition to eliciting a history of dry eye symptoms, these findings can also be quantified during the physical examination. The Schirmer test is performed by placing a piece of filter paper inside the lateral lower lid margin and waiting for five minutes [Figure 16]. At this point in time, a less than 5-mm length of wetting is used to diagnose dry eyes, while greater than 10 mm is normal. Positive findings would indicate the need for treatment of dry eye symptoms pre- and postoperatively[8]. Another useful test to consider prior to a posterior approach, such as a Mullerectomy, is improvement of the eyelid position in the office with a phenylephrine test. If a patient has isolated 1-2 mm of ptosis and no other indications for surgery, Phenylephrine can be given to both eyes. If this corrects the ptosis, this subgroup of patients can be considered for a posterior approach.
Other protective mechanisms should be assessed to ensure adequate postoperative ocular protection. These mechanisms are critical, as all ptosis procedures decrease the capacity of the upper lid to close. Therefore, in addition to Bell's phenomenon, eyelid closure strength, corneal sensation, and ocular lubrication must be verified preoperatively[3].