Decision to use a rib: consideration factors
When the decision is made that rib cartilage is required, the first step is to check its availability. According to previous studies, sex and age are best related to the quality of rib cartilage[1-5]. In general, younger patients have more flexible and softer cartilage than older persons[1-5]. Contrary to our expectations, however, surgeons often encounter severely calcified rib cartilage, especially in young females. Sunwoo et al.[6] reported that 22.5% of teenage female patients showed calcification, and as early as 14 years old in some, which can suggest that the onset of rib cartilage calcification is earlier in women than in men[6,7]. Calcification makes it difficult not only to perform the graft manipulation, but also makes it more difficult to predict outcome because of its irregular absorption[7]. In addition, the risk of donor site morbidity may increase if the rib cartilage is severely calcified[6]. Therefore, preoperative assessment of the calcification degree by obtaining a series of radiographs of the rib or by pricking the rib cartilage with a fine needle are necessary regardless of a patient's sex or age [Figure 1]. Computed tomographic (CT) scans of chest are best used to specify calcification pattern with overall features of rib in many previous studies[5-8]. However, CT is more expansive and the radiation exposure is higher than simple X-ray. In my practice, simple rib X-ray provides enough information regarding the degree of calcification and size and shape of cartilage, thus, enables me to judge its availability in rhinoplasty safely with relatively low cost. Luckily, not all calcified cartilages are contraindication for harvest. Grades of cartilage calcification can be classified by the percentage of calcified lesion, and more than 25% can be regarded as meaningful calcification[6]. A mild degree (< 25%), marginal type calcification (calcification along the periphery of rib cartilage) is often acceptable, but a central/granular type with moderate calcification (> 25%) is not suitable in most cases[6].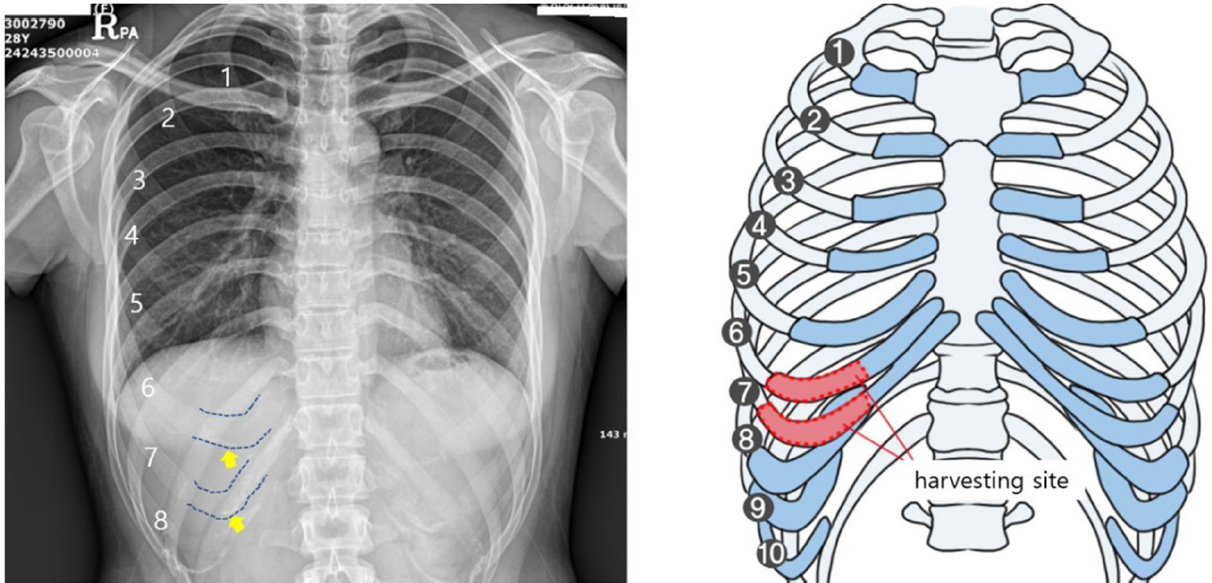 Figure 1. Appropriate number of rib cartilages are assessed on a simple rib series X-ray. Shape, curvature, width and calcification can be reviewed. Dotted lines show curvature, shape, and width of rib cartilages. Yellow arrow shows linear marginal calcification on the 6th rib while granular type on the 7th
In selection of an appropriate amount of rib cartilage, costal cartilage is harvested from the sixth through eighth ribs according to its shape and purposes[1,6,8]. Right side cartilages are commonly preferred than the left to avoid injury to the pericardium and confusion of postoperative chest pain from angina[1-9]. Interestingly, however, a study revealed that the greatest amount of costal cartilage from the sixth, seventh, and eighth rib was identified on the left side than right on CT scan data[10]. Therefore, rib cartilage harvesting from the left side can be a viable option in those patients who have had previous rib surgery, radiotherapy, or trauma with destruction of costal cartilage on the right side[10].
The sixth rib is usually at an ideal depth and the width is wide. But the straight piece is shorter than the seventh rib and has slight genu. Furthermore, if the patient has a history of breast implant, care should be taken not to injure implant material since the sixth rib is typically directly located under an implant[1,6,8]. Seventh rib cartilage has been known as the safest anatomically. It is situated over the abdominal cavity and thus can lessen the chance of pneumothorax since the parietal pleura of the lung runs down to reach the lower edge of the sixth rib at the xyphoid-chondral junction to the upper edge of the ninth rib cartilage laterally. The internal thoracic artery and vein also descend medial to the ribs from the seventh rib and therefore vascular injury is rare[8]. Its contour is also suitable for any rhinoplasty grafts because of an appropriate length and width. Thus, the seventh rib from the right side appears to be most advisable for rhinoplasty in general[10]. The eighth rib has a significant connection with the adjacent rib and the width is narrow, which is inadequate for a dorsal graft[1,6,8,11]. Also, some senior physicians prefer the eleventh and twelfth free-floating ribs as graft material because they are naturally straight, require less carving and undergo less warping. Moreover, they are thin and easily accessible[12].
Diced cartilage in temporalis fascia is an alternative choice when using rib cartilage if the length of the rib cartilage is insufficient as a one block dorsal graft or if the patient has very thin skin. In a case with a spotty calcified rib, it would be also better to dice for major dorsal augmentation to prevent unpredictable absorption[13].